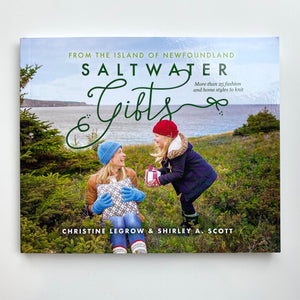 by Christine LeGrow and Shirley A. Scott
From the publisher: When it comes to merrymaking in Newfoundland, less is not more. More is more. This is an island where storytellers, musicians, comics and other entertainers are considered nobility. It's where the simplest kitchen party quickly transforms into a singalong concert; a small family gathering can easily mean a big scoff with 40 or more guests. This reputation for enthusiastic celebration goes hand in hand with Newfoundlanders' legendary generosity.

Saltwater Gifts explores this connection in more than 25 beautiful new designs, including comfy Tibbs Eve Vamps and Solstice Mitts, eye-catching Diamond Cushions and Bobble Tea Cozies, and must-have dog accessories. These are fashionable and functional gifts to be treasured.
Like the best-selling Saltwater Mittens and Saltwater Classics, this book presents clear patterns that are rated by difficulty and accompanied by gorgeous photos, helpful tips and a smattering of stories.
216 pages - paperback - printed in Canada