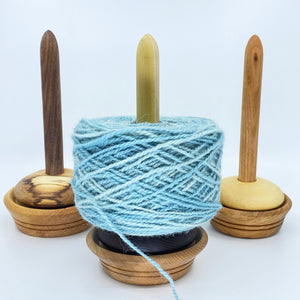 This ingenious and beautiful knitter's assistant holds a cake-style ball of yarn (the kind produced by a ball winder), turning smoothly and silently as you work. The centre post rotates as yarn unfurls from the outside of the ball, so no twist is added or taken away, eliminating the pesky unplying or "worming" of loosely plied, z-plied or high-twist yarns. And no more tugging or yarn-barf! The stable yet compact design of the base prevents the yarn holder from tipping.
Weavers take note: these are also handy for holding yarn while winding a warp.
Hand-turned from found and foraged hardwoods by John McConnell in Fredericton, New Brunswick, each one features a combination of wood types, such as maple, butternut, hickory, ash, elm and walnut, making it a one-of-a-kind piece.