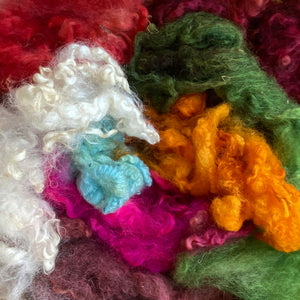 From the fleeces of lovingly raised and skillfully shorn local cross-breed sheep, these curls are long and lustrous with a beautifully undulating crimp. The fleeces are hand-dyed by Pia Skaarer-Nielsen in a range of vivid colours, and the colour packs combine a variety of different textures, as well as shades. They can be used in a wide range of fibre crafts, from felting and spinning to rug hooking. We love using them in thrummed mittens, too!
Washed. May contain some vegetable matter.
Each package contains approximately 80g of locks in an assortment of hand-dyed colours + natural white.
product of Nova Scotia