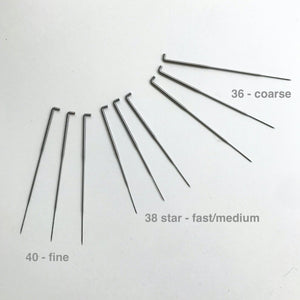 Please note that these are sold in pairs. The prices shown are for 2 needles.
These felting needles are available in three gauges:
36 - These are the stoutest of the three gauges, best for working with coarse fibres, or for kids or people who tend to break needles.
38 star - The star-shaped tips of these medium-gauge feature more barbs, making them "grabbier" and faster, a great feature when felting fibres into basic shapes
40 - These are the best needles for detail work and finishing touches, or when working with fine fibres.